A library of learning content that supports all your training & development needs
Get access to the world's best learning providers, when you need it – with Ekko's integrated content library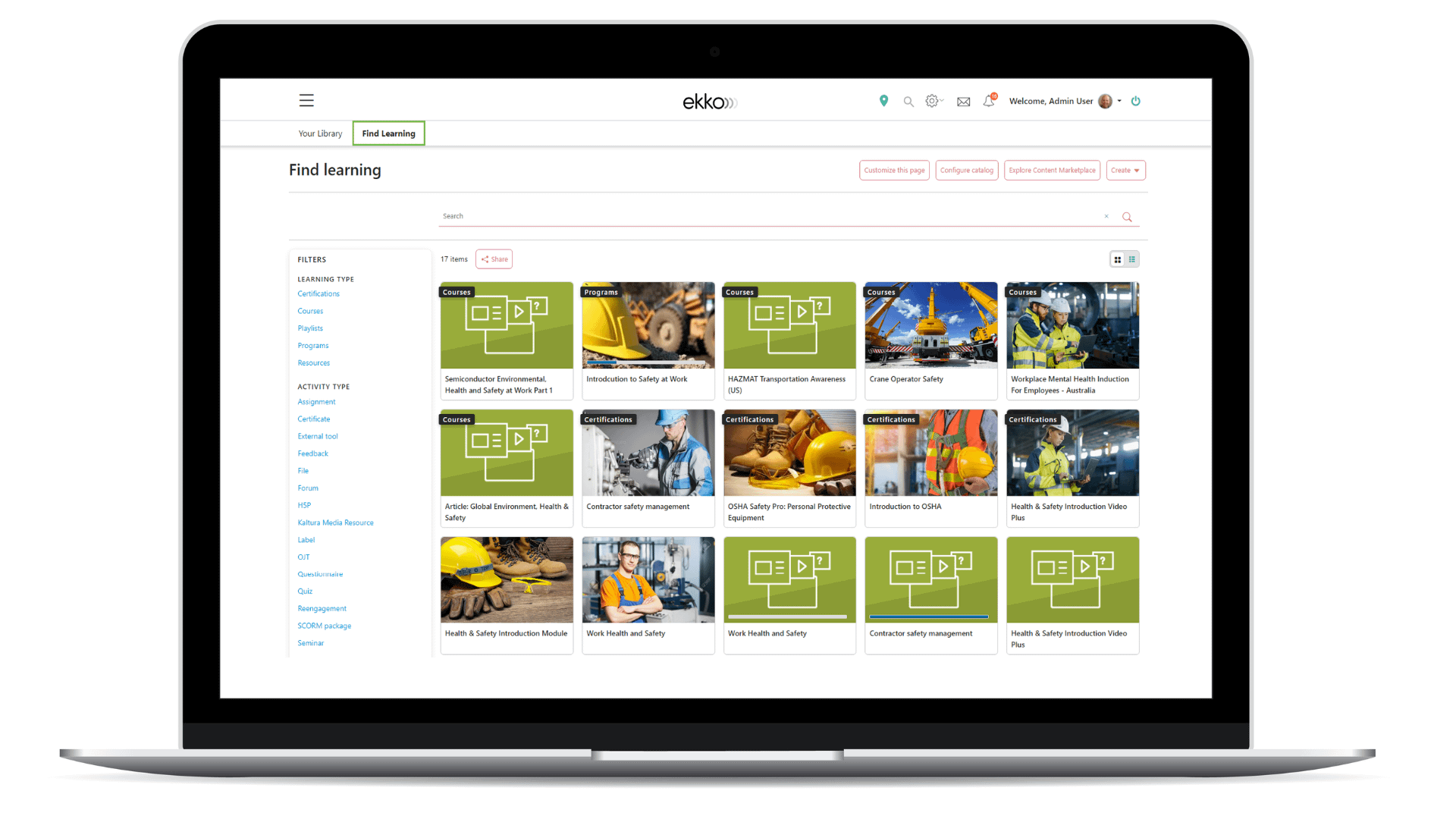 Whether your workforce is working at the office, from home, or located in the field, Ekko's Learning Content Library is always available – wherever they are and on any device.
Why use library content?
Library content saves more than 250 hours per module vs custom course creation – allowing you to quickly deploy top-notch, mobile-friendly learning content from the world's top content providers. 
Whether you're onboarding, upskilling, or just refreshing employee knowledge, ready-made learning content helps streamline affordable, engaging learning experiences to help you retain top talent, and comply with the latest regulatory requirements.
Save time and money and focus on what you do best
Deliver results from day one
Access learning content anytime, anywhere
How it works
Thanks to our partnerships with leading content providers, Ekko's integrated content library makes keeping your workforces' knowledge and skills up to date as easy as 1-2-3…
Step 1 – Select a Content provider
GO1

– offers the largest curated eLearning library from top training providers

LinkedIn

– Get job ready, in-demand skills with expert-led training

Open Sesame

– Thousands of eLearning courses from the world's top publishers
Step 2 – Choose your Package
STARTER Course Library

– Your choice of up to 50 courses

EXTENDED Course Library

– Your choice of up to 200 courses 

Access to any of the 1000s of courses in our library
Browse

through the content library and pick the content you're interested in

Add

the selected content to your courses, certifications and programs in one click

Share the content with your back office and frontline employees in seconds
Ready to go when you are
Ekko's integrated content library gives you access to 1000s of learning materials at the push of a button
Elearning Essentials, Covered
Choose from 1000s of courses authored by experienced subject matter experts
WANT TO KNOW MORE?
Want a full list of course titles or a demo of how it works?