A turnkey version of Totara for compliance-heavy organizations
Ekko combines everything that the Totara platform has to offer but includes the functionality to accelerate policy and process change management and gain greater control over compliance.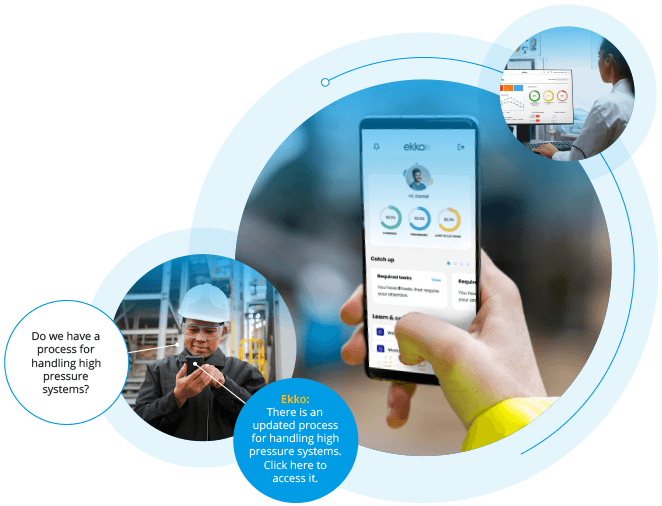 Built on the solid foundations of the multi-award-winning Totara platform, Ekko provides additional policy and compliance management functionality, real-time digital transformation, and 'just-in-time' conversational knowledge capabilities. 
The result? A unified system that provides everything highly-regulated organizations with frontline employees need to adapt to change quickly, frictionlessly, and successfully.
Ekko is an out-of-the-box, all-in-one compliance solution that's ready to use in minutes.
A custom build of Totara – with added Compliance features and intelligent Mobile App
Everything you can do in Totara you can do in Ekko too* – with additional Compliance & Policy Management capabilities
Compliance & Policy Management

Compliance Learning

√
√

Basic forms and surveys

√
√

Advanced form and surveys including workflows and task assignments

√
√

Policy and procedure management

×
√

Automated Policy document conversion

×
√

AI and machine learning-powered conversational compliance

×
√

Location-based distribution and governance

×
√

Graphical policies and procedures dashboards

×
√

Interactive, media-reach policies, procedures and guides

×
√
Mobile Application
Access to courses, programs and certifications
√
√
Access to standard notifications
√
√
Playing trackable SCORM content
√
√
Offline learning
√
√
IOS and Android app
√
√
Collaborating with experts and peers via workspaces and knowledge channels
×
√
Access interactive policies, procedures and guides
×
√
My current tasks
×
√
Real-time locations-based intelligent notifications
×
√
Real-time notifications about policy changes
×
√
Superfast access to learning using QR codes
×
√
Updating in-class / field training attendance in real-time using QR codes
×
√
AI-powered compliance virtual assistant activated by chat and voice
×
√

Learning & Training Management

Online learning design/delivery

√
√

Offline seminar management

√
√

Assessment and certification

√
√

Learning plans

√
√

Program management

√
√

Adaptive learning/personalization

√
√

Integration with external learning content libraries (inc. Linkedin & Go1)

√
√

Integration with Zoom

√
√

Graphical reporting

√
√

Multitenancy

√
√

Conversational Knowledge bot

×
√

Custom modern UI/UX

×
√

Interactive e-learning and games content creation authoring tool

via Integrations
√

Interactive video-based content authoring, management and distribution

via Integrations
√**
Workforce Engagement and Collaboration

Content creation/curation/sharing

√
√

Collaborative workspaces

√
√

Informal learning

√
√

Messaging and discussion

√
√

Recognition

√
√

Pulse surveys

√
√

Video based content creation and distribution

via Integrations
√**
Accessing via mobile
×
√
Talent & Performance Management

Competencies

√
√

Appraisals and Check-ins

√
√

360° Feedback

√
√

Reporting Dashboards

√
√

Evidence Banks

√
√

Goals and OKRs

√
√
* The Totara Platform comprises Totara Learn, a fully-featured, enterprise-level LMS (responsible for Ekko's learning management capabilities; Totara Engage, a learning experience platform (LXP) that provides the bulk of Ekko's workforce collaboration functionality, and Totara Perform, which provides the backbone for Ekko's performance management system.
**Requires additional service purchase
What makes Ekko different?
Although it's built on the Totara platform, a few key differences make Ekko an even better choice for organizations with large numbers of deskless/frontline workforces and in heavily-regulated sectors.
Software as a Service (SaaS) – ready to use in minutes
Built-in capabilities, UI, and UX – no additional development required
24/7 self-support portal
A proprietary, smart mobile App
Artificial Intelligence (AI) and machine learning (ML)-driven
Location-based personalized learning and compliance
Advanced Compliance & Policy Management capabilities
Although Totara provides the functionality to support compliance training needs, Ekko takes things to another level with clever, automatic conversion of policy, process, and user guide documentation into easy-to-access conversational knowledge resources
Ekko also allows you to monitor employees' compliance maturity and provides personalized, real-time learning suggestions to enable continued employee growth.
The compliance information you need, when you need it
The Ekko Mobile App includes the same standard features provided by the Totara Mobile App: course access, a SCORM player, and in-built authentication.
But Ekko's Mobile App really takes things to another level…
Purpose-built to fully incorporate an intelligent, AI-powered knowledge bot, Ekko communicates policies and procedures in a human-like conversational experience and enables users to receive instant, automatic, location-based compliance advice –  wherever they are, whenever they need it.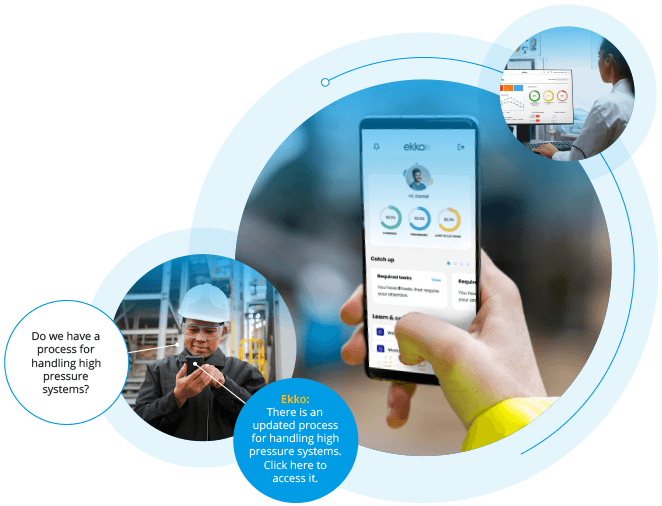 3 reasons to consider Ekko versus Totara
There are many reasons customers choose to go with Ekko over the core Totara platform (or any other platform(s) for that matter). The top 3 reasons:
See it for yourself
See Ekko in action and get your questions answered by an Ekko expert
Frequently Asked Questions
LearningZone (the team behind Ekko) has been a Totara Partner from the very beginning. 
Over the years LearningZone has contributed to core code development and provided Hebrew translation. Our developers know the Totara platform inside out and have a long history of happy customers in Israel, Europe and the United States.
Learn more about our story
.
Yes, you can migrate to Ekko if you already have Totara, although you'll need to move from your current Totara Partner to LearningZone
Thanks to Ekko's intelligent policy management features, it's a very low-effort process. Just upload your document-based policies and procedures to Ekko, and let clever AI and Machine Learning do the rest.
GRC Award Winner 2019 Innovation in User Experience for Policy & Training Management